Move aside, Mona Lisa! Italy has a new masterpiece in town, and it's not hanging on the walls of the Louvre. Yes, we know that the Louvre is in France not Italy, but we won't let that get in the way of a good tagline! JaggedGames, an indie games developer that originated in Australia, has set its sights on Europe, specifically Italy, to bring a fresh wave of creativity and innovation to the world of gaming. With a laser focus on game development, JaggedGames is ready to conquer the industry, one pixel at a time.
At JaggedGames, we eat, sleep, and breathe games (sometimes to the annoyance of our partners!). From the nostalgic days of Atari to the cutting-edge virtual realities of today, our team is constantly pushing the boundaries of what's possible in the gaming world. With a proven track record of published and profitable games and software such as Divided:Soul Theft and VATK, JaggedGames has learnt, adapted and survived in a challenging and at times hostile marketplace to become a solid performer in terms of producing results for their clients.
Also, we're not just interested in computer and console games, we're obsessed with all things gaming, including table-top and card games. So whether you prefer the click of a mouse or the shuffle of a deck, we've got you covered. Our obsession with all things gaming gives us a broad experience base allowing us to understand what can and can't work in different marketplaces ensuring that our clients get practical feedback on their ideas to help ensure they achieve success. And it doesn't stop there! We are not just games developers,  we're also passionate about sharing our knowledge and expertise with others. That's why we're offering specialist services in project management, digital engineering, software development and best practices. We want to help other game developers level up their skills and create unforgettable gaming experiences. After all, a rising tide lifts all gamepads!
Whilst our passion is games, project management is our bread and butter. We know that turning a game idea into a reality can be a daunting task, but with our team of experienced project managers, we'll guide you through the process, making sure every milestone is met and every pixel is perfect. From concept to launch, we'll be your trusty sidekick (or your trusty NPC but with meaningful dialogue!), ensuring your game reaches its full potential.
When it comes to digital engineering, we're like Mario with a power-up. We have the technical know-how to bring your game to life, whether it's on a computer screen or a mobile device. Our team of talented developers will work their magic, crafting code that's as smooth as a well-executed combo move. We'll optimize your game for performance and deliver an experience that will have players begging for more.
And let's not forget about best practices. In the ever-evolving world of gaming, it's crucial to stay up-to-date with the latest trends and techniques. Our team of industry experts will share their insights and knowledge, helping you navigate the gaming landscape with ease. From monetization strategies to player engagement, we've got the inside scoop on what works and what doesn't. Consider us your gaming gurus, here to guide you to success.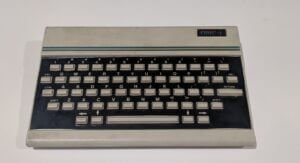 And we are not afraid of old technology. In fact some of the team pride themselves on their computing skills from what may seem eons ago. If nothing else the old technology, games and skills can help us learn and prevent us making mistakes (or as we sometimes refer to it making the great-leap-backwards that occurs in some games). So whether you're a game developer looking for a partner in crime or a gamer in search of your next addiction, JaggedGames is here to deliver. Whether you are an existing business with an idea you want to "gamify" or an organisation looking for an alternative training mechanism, we are here. With our passion for gaming and our commitment to innovation, we're ready to take the gaming world by storm. Italy, get ready to level up!